TalkSPORT is the world's largest sports radio station and is a global audio partner of the Premier League, the top level of the English football system. Smarkets, a UK-based peer-to-peer betting exchange, is one of Europe's fastest growing technology companies. TalkSPORT was seeking new and innovative ways to drive awareness and downloads of the Smarkets and NetBet apps from Google Play and the Apple App store.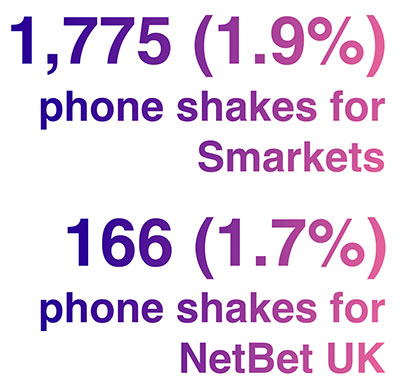 TalkSPORT teamed up with us, employing our ShakeMe™ technology to create a UK radio first. ShakeMe™ , the interactive audio ad format developed by AdsWizz, enables people to seamlessly migrate from audio listening to a digital platform with a simple shake of their phone to trigger a call to action. For the Smarkets campaign, the audio ad format works by providing listeners with a call to action at the end of the ad, inviting them to shake their phone to download the Smarkets app directly to their device.
By utilizing AdsWizz interactive audio format, talkSPORT went beyond what was expected. The campaign led to 1,775 phone shakes for Smarkets, more than 10X the level of engagement with a typical mobile display ad. Both the client and publisher were pleased with the results, and are planning more ShakeMe™ campaigns.
"
"We're delighted to have teamed up with AdsWizz. Their innovative ShakeMe™ product is the next generation in audio advertising and means that talkSPORT can help advertisers reach their key audiences in more engaging and immersive ways, including using behavioral data like mood or geo-targeting."
David Wilcox
National Sales Director for Wireless Group
Technology for a sound world
.