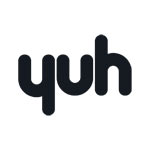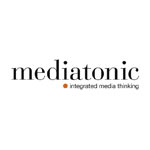 Yuh allows its users to pay, save and invest their money all in just one app. Yuh is a joint venture of innovation and know-how between two of Switzerland's leading online banks – PostFinance and Swissquote. Yuh works hard to make your life easy with multi-currency accounts, free debit cards delivered to your home, the possibility to trade fractions of the hottest cryptos and trending shares, instant payments between fellow users and much more.
Yuh was looking to raise brand awareness, drive app downloads and ultimately get people to start using their innovative finance tool. To accomplish this, they appointed mediatonic, a leading independent Swiss-based media agency, to help them reach their target audience of millennials and early adopters.
Industry data shows that over 50% of individuals listening to digital music are between the ages of 25-44 years* – making them prime targets for Yuh. Additionally, over 85% are listening on their mobile phones. **
Armed with this data, mediatonic worked with AdsWizz to develop a solution that met Yuh's goals and allowed them to tap into this engaged audience where they were – listening to streaming music on mobile devices.
Because the campaign's primary call to action was an app download, AdsWizz proposed their unique audio format, ShakeMe, which invites listeners to shake their phones to complete the desired action, such as download an app or coupon, place a call, open a web link, or invite a voice command. Listeners are able to interact directly with the ad without unlocking their phone or even looking at their screens.
To reach the wide range of millennials and early adopters, AdsWizz ran the campaigns across AdWave, their global marketplace for streaming and on-demand digital radio. 
This was the first time an innovative audio campaign like this launched in Switzerland.
Across a five-month period and a total of ten ShakeMe campaigns, Yuh had an impressive amount of interactions during this period – 60% more than average audio campaigns without ShakeMe. In addition, the average interaction rate was 2,48%, and the listen through rate was 92%, providing great brand exposure even if the listener didn't convert at that time.
The top performing music genres for these campaigns were Top 40 Hits, Urban/Hip-Hop, and World Music. Yuh also found success targeting young professionals, skilled laborers, and individuals interested in electronics.
*Statista Global Consumer Survey, October 2021
**AdsWizz global data shows on average 86% of audio ads are heard on mobile devices.
"
"This unique type of ad format exceeded the most optimistic expectations. Not only did this format prove to be impactful, but it also strongly contributed to the performance of the campaign on harder KPIs such as Account Openings."
Justas Juozapaitis
Senior Programmatic Manager, Mediatonic CH
Technology for a sound world
.