The number of people using conversational AI tools, such as voice assistants, is exponentially growing. As of 2022, more than 135 million people in the United States are voice assistant users. With this exponential growth of smart speaker usage, a global leader in financial services wanted to leverage the power of audio to increase its brand awareness and facilitate the adoption of its voice activation skill connected to its app for smart speakers. After inheriting this highly coveted account, the client's agency needed to execute quickly. They approached the AdsWizz AudioMatic team for our end-to-end platform built for audio and our hands-on audio expertise to implement a brand awareness campaign.
The firm needed an unrelenting resolve to activate the campaign, overcome strict targeting and campaign guidelines, and launch its new voice activation skill enabling the discovery of its award-winning content.
Tech and Tactics 
Audience Targeting

 – AudioMatic, AdsWizz's digital audio demand-side platform (DSP), is a robust planning and buying platform with various audience targeting capabilities featuring our behavioral segments and contextual targeting, prioritizing smart speakers and mobile devices.

Second Screen Retargeting 

– Retargets listeners on the web or in apps with companion display ads.

Programmatic Host-Read Ads 

– Similar to traditional radio ads, these ads are recorded and produced in advance by the host and automatically integrated into the program.

Brand Lift Study 

– In conjunction with the attribution study company, the agency ran a brand lift study to measure the overall effect of the campaign on the brand association, awareness, and consideration.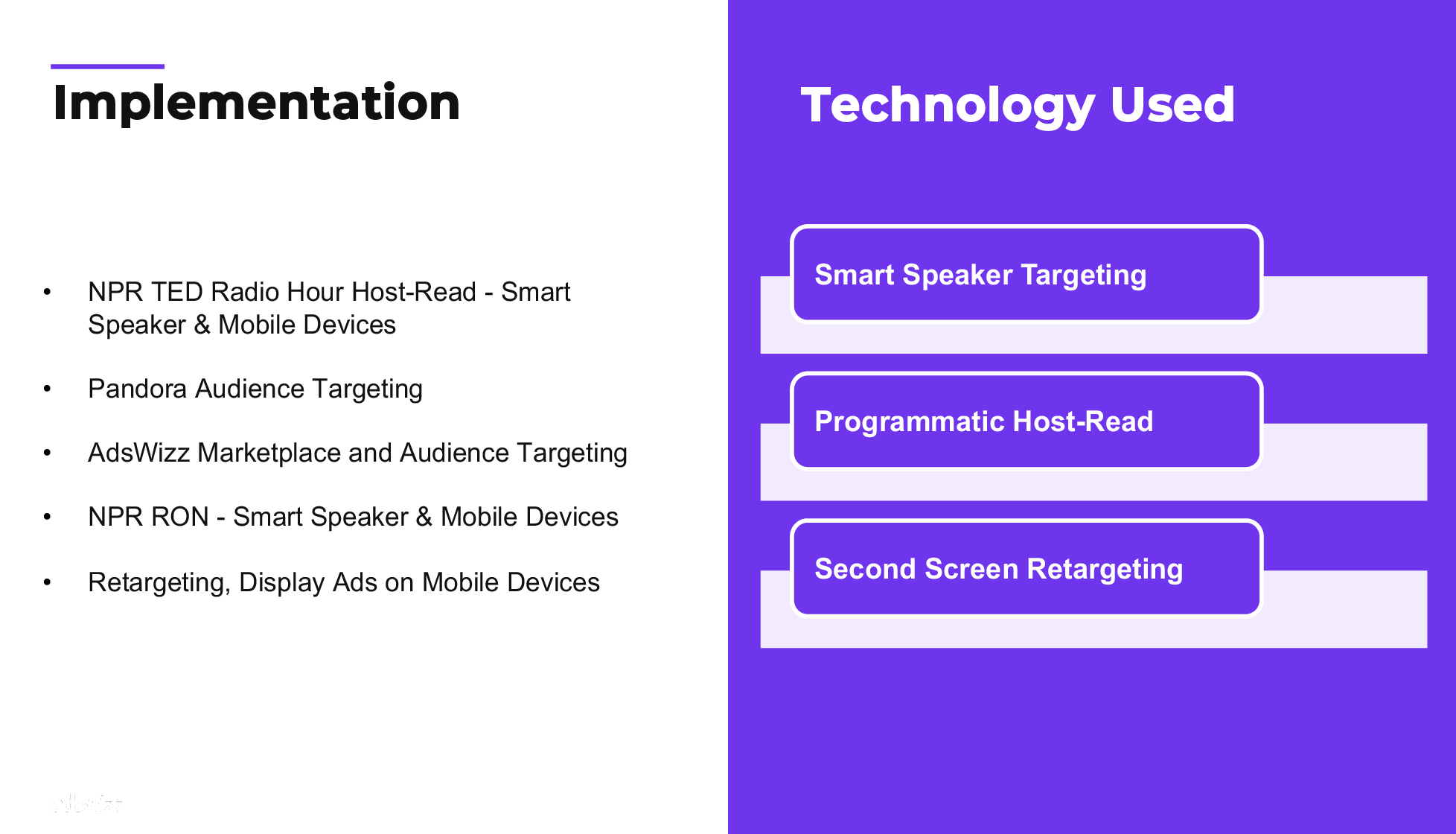 The AudioMatic audio campaign and accompanying brand lift study boosted targeted listeners to activate the voice activation skill on its smart speaker, yet another indicator of the potency of podcast inventory.
The firm's campaign consideration lift of 79.1% outperformed the attribution study company's consideration benchmark.
All podcast channels yielded a sizable lift, and NPR respondents generated the most significant lift for Brand Awareness, Brand Favorability, and Message Association. AdsWizz leveraged National Public Radio (NPR) host-read ads across the TED Radio Hour to engage directly with their target audience. NPR is an American non-profit media organization with five (5) of the top 20 podcasts in the US. One of its programs, TED Radio Hour, explores the biggest questions of our time with the help of the world's greatest thinkers through a series of talks and original interviews.
But wait, we're not done yet…
For overall brand lift, respondents ages 25 – 34, 35 – 44, and 55+ forged a promising lift for Brand Awareness. Those 25 – 34 and 45 – 54 rendered a positive lift for Message Association. Respondents who heard the ad 2 – 3 times had the highest positive lift (11%) for Brand Awareness, and respondents who listened to the ad once forged the highest positive lift of 26.3% for Message Association.
Additionally, AudioMatic connected to 90% of the global publishers, and our direct access to these publishers provided the ease and the technology to run this campaign successfully. The increased adoption of the digital voice assistant, significant channel growth, and favorable brand lift resulted from innovative technology, highly effective strategy consultation, and agile campaign management rooted in clarity and focus.
Technology for a sound world
.