Most people don't ask, "What's a podcast?" anymore … instead they ask, "What podcasts are you listening to right now?" It's a sign of the times and the growing prominence of long-form talk radio. Bursting onto the scene in a big way in 2014 with Sarah Koenig's addictive podcast Serial, this form of media is growing exponentially. According to Edison Research, nearly half the US population – 155 million people – listen to podcasts, with over 104 million people listening at least once a month. In three short years, 1.85 billion podcast listeners are expected globally, according to research by Ovum.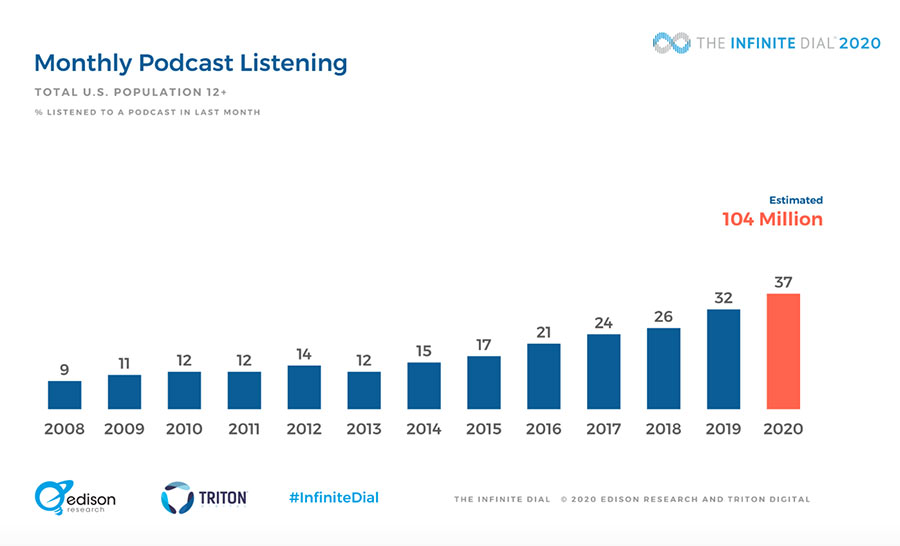 With that in mind, we've added exciting new features to AudioMatic, our audio-centric DSP, to make podcast buying and planning easier and scalable for large agencies, including automating host-read campaigns and offering brand-safe audience buys.
For context, it helps to understand the podcast buying experience to date. As the popularity of podcasts has grown, so have ad dollars. In fact, the podcast advertising industry is expected to exceed $1 billion dollars by 2021. But to scale and build out a well-rounded podcast advertising strategy, agencies currently face some real barriers.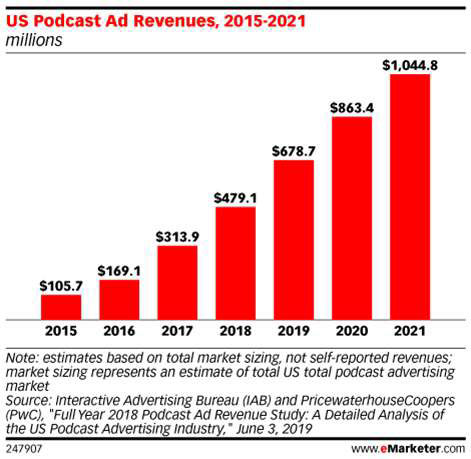 Podcast advertising is like taking a step back in time.
Digital audio advertising options today are robust and reflective of the powerful programmatic technology available, set up to deliver customized marketing messages to the right audiences at the right time. But podcast advertising has been slow to catch up.
When brands advertise on podcasts they tend to invest in host-read ads on the most popular shows. And research shows the approach's effectiveness – podcast listeners trust the show's host and develop an emotional connection to the content. According to Nielsen, 80% of podcast listeners listen to most or all of an episode, and 54% of listeners are "somewhat or much more likely" to buy an advertised product when they hear it on a podcast than compared to other advertising. However, the process is manual, difficult to scale, and provides little to no targeting intelligence.
Luckily, solutions are now available to address these challenges, coupling high trust host-read ads with more powerful audience targeting, reporting, innovation, and control. As digital audio buys are increasingly being automated by agencies, AdsWizz wants to provide publishers and buyers with the ability to manage host-read podcast advertising in a simpler and more scalable way through that same automation model. And for the first time, AdsWizz can show agencies exactly how to do it – at scale and on point.
The AdsWizz podcast primer for agencies is now available for download.
We've developed an in-depth primer for agencies that breaks down the core elements of podcast advertising, and is meant to help any agency design an effective advertising strategy, delivering the most value for their clients by improving podcast planning and buying.
Podcast Advertising in a Programmatic World: A Primer for Agencies dives into the benefits of an end-to-end technology platform, describing how a comprehensive podcast marketplace works and exploring the new technology available that allows for enhanced targeting and brand safety for podcast advertisers (the AudioMatic DSP and Audio Ad Buying Platform) and scalable monetization for publishers. It also showcases several other new AudioMatic capabilities that are either available today, or will be in the first half of 2020.
As we continue to see explosive growth in the podcast market, the need to both scale and simplify this form of advertising will become even more important – and now is the time to take the first step.
Download the new podcast advertising primer for agencies here, and as always, feel free to reach out to AdsWizz directly.