AdExchanger hosted its first-ever AdExchanger Awards in San Francisco this week at Programmatic I/O, and we are honored to have won in the category of Best Publisher-Side Technology for our complete audio monetization platform, which includes our Dynamic Ad Insertion Suite; our audio ad serving solution, AudioServe; and our audio-first SPP, AudioMax. The award honored AdsWizz for "Fueling the Growth of Audio", highlighting that "publishers need technology companies that drive direct revenue, and turn visitors into loyal and more valuable audiences."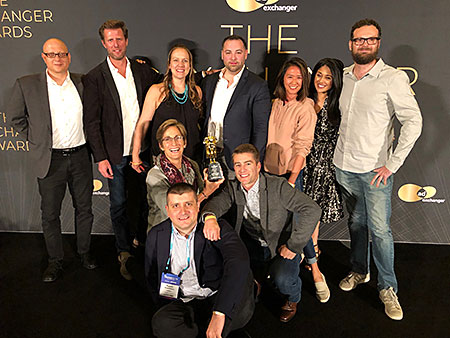 AdsWizz was recognized for our ability to "excel in helping publishers build stronger and more sustainable businesses."
AdExchanger's inaugural award program is designed to recognize and celebrate the advertising and marketing community's top achievers, and those who have made the most meaningful impact on the industry — across all mediums, including display, video, and audio. The award from AdExchanger further reinforces the importance of audio as a central medium in our everyday lives, and the opportunity for marketing and advertising in this exploding medium.
The finalists were judged based on measurable KPIs, impact to market served, and demonstrated innovation or excellence. The AdsWizz monetization platform drives increased revenue for audio publishers in intelligent ways that fully leverage the programmatic platform, and help fuel their ability to take advantage of this transformative time in the audio industry. Our customers rely on our technology to efficiently generate revenue and grow their business. We are honored to be powering the programmatic and audio ad solutions for Pandora, iHeart Media, TuneIn, Cumulus, Soundcloud, Univision, NPR, Cox Media, PodcastOne, and brands in Europe including talkSPORT, RMS, Bauer, Lagardare, MediaMond, and more.
You can see the full list of awards and finalists here.
The time for audio is NOW
Today, Americans listen to more than 4 hours of streaming audio EVERY DAY. Using voice for search, communicating with smart speakers, listening to podcasts, and enjoying streaming music services is now mainstream. We are becoming an audio-first society. Audio advertising is the sound wave of the future, providing listeners, publishers, and advertisers with new ways to engage with one another in a continuous cycle of personalization and innovation. It's an exciting and historic time in audio and we are in awe of the industry's growth and development each and every day. It's from this lens that we not only appreciate this award, but see it as a springboard to the future possibilities.