Brand new listeners are herding to podcasts daily, and popularity is higher than ever, attracting millions of people every month. According to The 2022 Podcast Trends Report – a joint report from AdsWizz, Simplecast, and SXM Media, SXM Media's podcast audience grew 123% in the past year, culminating in 300,000 years worth of listening in 2022, a 110% increase in podcast shows YoY, and 157% increase in ad spend by impressions in 2021. 
With a soaring reach and appeal, podcasts are at their peak. Needless to say: advertisers have gotten the memo and are starting to spend accordingly. Though selling such a diverse podcast inventory and enabling advertisers to reach the right audience without audience identifiers is no easy feat.
Audience data has historically been the foundation for the success of any advertising campaign. Podcasts have functioned without traditional forms of audience data such as mobile IDs or cookies for a long time, data that conventional media has heavily relied on. With predictive audiences, we can continue to enrich our data capabilities and further harness the power of podcasts.
So what is Comscore Predictive Audiences Targeting?
Comscore Predictive Audiences lights up the data path to ideal podcast audiences, making them readily available for campaign targeting and easily available through privacy-friendly contextual signals. Through our partnership with Comscore, Predictive Audiences provides future-proof podcast targeting, enabling access to over 300 audiences across numerous categories, such as TV viewership, commercial signals, gaming habits, location-based behaviors, life stage, and more. 
An industry-first, cookie-free targeting capability paired with AdsWizz AI Transcription Technology, Predictive Audiences remove the uncertainty from the signal-light podcast environment by creating a trustworthy and contextually relevant pathway for target audiences. Advertisers and publishers select relevant segments based on TV viewership, over-the-top (OTT) consumption, and consumer behaviors related to automotive purchase data, location data, B2B data, or non-Fair Credit Reporting Act (FCRA) financial data. And the AdsWizz platform delivers the ads on episodes that include topics for which the target audience has high affinity.
As an advertiser, what do I get out of this, exactly?
Let's say you're building a campaign for an automotive company to boost sales for one of their high-end models. You can refine your targeting by choosing the brand you're advertising from over 50 automotive brands available with Predictive Audiences, such as BMW, Mercedes-Benz, and Porsche. Behind the scenes, Predictive Audiences identifies listeners interested in automotive brands and maps their behaviors and interest to well-defined content preferences. As a result, AdsWizz's platform delivers ads on podcast episodes that focus on content that interests your target audience.
And if I'm a publisher, how can I leverage these tools?
Our Inventory Forecast tool can predict available inventory based on the selected Predictive Audiences segments. The intricate forecasting algorithm considers such audio-specific metrics as ad-break duration, the maximum number of ads in an ad break, and potential ad clashing. We run estimates on the likely number of available impressions. You can use our Custom Reports tool to see how your Predictive Audiences segments have performed. Using the Predictive Audiences (Targeted) dimension, the report will return the number of audio impressions delivered for each targeted segment.
So, in a nutshell…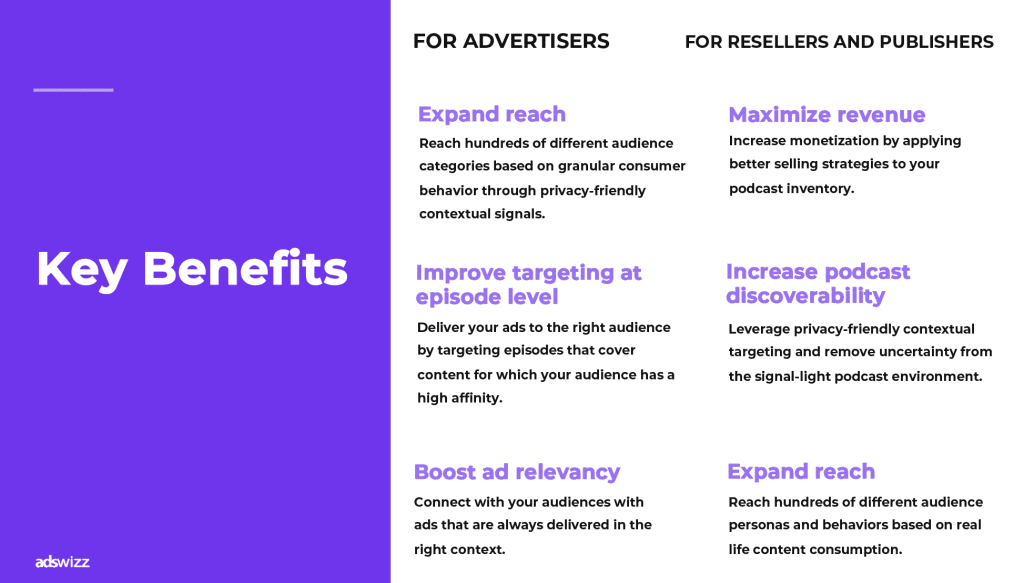 Recap:
Advertisers/resellers struggle to reach audiences in a scaled manner within podcasts because they are signal-light.

They are becoming increasingly concerned about consumer privacy and any perception that their data usage may be in violation.

Predictive Audience segments allow advertisers and resellers to reach over 300+ audiences without relying on traditional identifiers.

Predictive Audiences are privacy-friendly, powered by context, not user identifiers.

Benefits for resellers and publishers – maximize revenue, increase podcast discoverability, and expand reach.

Benefits for advertisers – expand reach, improve episode-level targeting, boost ad relevancy.
If you are an AdsWizz partner and would like to learn more, please click here.
If you are not an AdsWizz partner and would like to get in touch with us, please visit the Contact Us page.
To read more about SiriusXM and Comscore bringing Comscore Predictive Audiences to AdsWizz, click here.
by Daniel Einhorn, Senior Manager, Content Marketing at AdsWizz